Isobornyl methacrylate(IBOMA) cas 7534-94-3
Assay:99%min
Appearance:Colorless to light yellow liquid
Package:25kg/drum or 200kg/drum
Capability:300-500Mt per month
Sample:Available
Description
Isobornyl methacrylate(IBOMA) Quick Details
Chemical Name:Isobornyl methacrylate(IBOMA)
CAS No.: 7534-94-3
Molecular Formula: C14H22O2
Molecular Weight:222.32
Molecular Structure: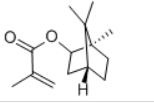 Appearance: Colorless to light yellow liquid
Isobornyl methacrylate(IBOMA) Typical Properties
| | |
| --- | --- |
| Item | Specifications |
| Melting point | -60 °C |
| density | 0.983 g/mL at 25 °C(lit.) |
| Boiling point | 127-129 °C |
| Rotation | 0.985 |
| flash point | 225 °F |
| solubility | Negligible |
Isobornyl methacrylate(IBOMA) Usage
1.Application of IBOMA in High Solid Acrylic Resin In the formulation of acrylic resin, adding ring ester monomer of methacrylic acid (IBOMA, for example) can effectively reduce the viscosity of polymer solution while keeping the glass transition temperature, molecular weight and functional group constant. In all kinds of ring monomers, the viscosity reduction effect of IBOMA is more obvious.
2.IBOMA is a kind of monomer which combines hardness and flexibility. Because of its molecular structure, IBOMA polymer has excellent light, fresh reflection, abrasion resistance, medium resistance and weather resistance, and its hygroscopicity is lower than MMA (methyl methacrylate). In addition, the acrylic resin with IBOMA has good compatibility with polyester, alkyd and many volatile paint film-forming substances. When IBOMA is used in powder coatings, its copolymer can improve the agglomeration of powder, improve the stability of powder coatings and reduce the melting viscosity, thus improving the leveling of coatings and improving the appearance and luster of coatings.
3.IBOMA is suitable for manufacturing high Tg thermoplastic acrylic resin. Its products have high hardness, high alcohol resistance and heat resistance, and have good flexibility, adhesion, moisture resistance and weatherability. It is a new type of acrylate monomer with special structure. It is suitable for manufacturing soft plastic film coatings such as PET, PE, PP, etc. And decorative protective coatings for PE, PP, PC and other engineering plastics. More extensive uses need to be developed and applied by experts from all walks of life.
Isobornyl methacrylate(IBOMA) Package
Packing: 25kg/drum or 200kg/drum
Isobornyl methacrylate(IBOMA) Storage:
Store in a cool, dry, well – ventilated warehouse. Stay away from fire and heat. Prevent direct sunlight. Packing seal