amyl salicylate cas 2050-08-0
Product Name: Amyl salicylate
CAS: 2050-08-0
Molecular Formula:C12H16O3
Molecular Weight:208.25
Appearance: Clear colourless liquid
Assay: 98%
Description
CAS 2050-08-0 (Amyl salicylate)Quick Details
Product Name: Amyl salicylate
CAS: 2050-08-0
Molecular Formula:C12H16O3
Molecular Weight:208.25
Molecular Structure: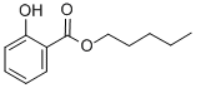 Appearance: Clear colourless liquid
Assay: 98%
CAS 2050-08-0 (Amyl salicylate)Typical Properties
| | |
| --- | --- |
| Item | Specifications |
| Appearance: | Clear colourless liquid |
| Odor | With flower and grass odor balsamand chocolate-like scent |
| Sum Isomers Content (GLC),% | ≥98 |
| 2-Methyl Butyl Salicylate Content (GLC), % | 30~40 |
| N-Amyl salicylateContent (GLC), % | 58~70 |
| Relative Density (25ºC): | 1.049~1.055 |
| Refractive Index (20ºC): | 1.501~1.510 |
How to use CAS 2050-08-0 (Amyl salicylate)
1. There are many kinds of salicylates belonging to perfumes. The most commonly used are methyl salicylate, isoamyl salicylate and benzyl salicylate.
2. Methyl salicylate has a content of 96% in birch bark oil, and also has a certain content in essential oils such as cinnamon oil, ylang-ylang oil, violet oil and tuberose oil, but not in other essential oils. Salicylate is reported.
3. Isoamyl salicylate is the most important type of starch ester and is the main component of the mixed clover extract.
4. Amyl salicylate is used as a variety of conditioners and fixatives for the preparation of carnation flavors. It can be mixed with oak moss extract, sesame oil and geraniol.
5. Amyl salicylate is an organic synthetic raw material. Amyl salicylate is also used as a soap essence and solvent.
CAS 2050-08-0 (Amyl salicylate) Packaging
Blue steel Drum, Net weight: 180kgper drum
CAS 2050-08-0 (Amyl salicylate) Storage
The package is complete, lightly loaded and unloaded; the warehouse is ventilated, away from open flames, high temperature, and stored separately from oxidants.
Other information
The above information involve our technology secrets about the production of this product, therefor users shallkeep it a secret.The above information is believed to be correct but does not purport to be all inclusive and shall be used onlyas a guide. Users use this information only as a supplement to other information gathered by them, and shouldmake independent judgement of suitability of this information to ensure proper use. This information isfurnished without warranty, and any use of the product not in conformance with this Product Technical DataSheet, or in combination with any other product or process, is the responsibility of the user.